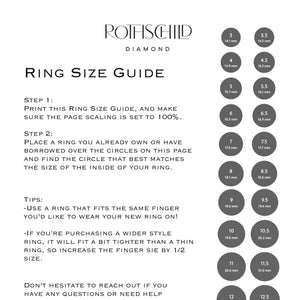 Choosing Your Ring Size:
To find your ring size, you may use our Ring Size Guide or request a Rothschild Diamond Ring Sizer for the most accurate results!


If you'd like to use our Rothschild Diamond Ring Sizer to determine your finger size, you may purchase the sizer for $15.00 with complimentary 2-3 day shipping. Or if you purchase a Rothschild Diamond ring, please reach out to us and we will send you a ring sizer complimentary.

Rothschild Diamond Ring Size Guide

Step 1: Print this Ring Size Guide, and make sure the page scaling is set to 100%.
Step 2: Place a ring you already own or have borrowed over the circles on this page and find the circle that matches the size of the inside of your ring best.
Tips:
Make sure to use a ring that fits the same finger you'd like to wear your new ring on!
If you are purchasing a wider style ring, it will fit more tightly than a thinner ring, so increase the finger size by a ½ size.