You've found the one. We'll help you find the ring.
Here's to celebrating life's biggest moments with sparkle!
 Design a custom ring with access to the finest selection of diamonds in the world.
Your style + our 50 years of experience and a legacy of exquisite attention to detail = The ring of your dreams, completely unique to you and your loved one.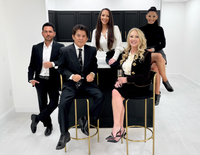 Your Diamond Insiders
From 'Will you marry me?' to 'Happy Anniversary', we've been bringing the world's finest diamonds to the U.S. for generations.
Our worldwide connections and industry reputation allow us access to the best diamonds at the best prices.
It's a legacy that began with Master Diamond Cutter Effie Rothschild and continues today.
Learn more about us
Notes from our clients
"The best part of the experience was dealing with Tiffany and her family who have been in the diamond industry for generations, so their knowledge is second to none. They have a jeweler on site who builds, repairs and cleans jewelry as well!!! I think about standing at a counter somewhere else in a retail setting compared to sitting in Tiffany's office in a quiet, private setting able to listen and focus on making the right decision."

Kyle Crochet
"Sarah and Rothschild Diamond made my engagement ring purchase effortless and fun! Even though I was a remote customer, the level of service and attention was as bespoke and full of care as if I had walked in the front door of their establishment. My fiancé is still over the moon about her stunning and perfect ring."

Brian Potts
"Will be lifelong customers! ... Sarah and Tiffany are always so patient, careful to detail, and understanding of your budget. The quality of their stones and pricing is better than anywhere else we have been. Highly recommend to all of our friends and family. We can't wait to continue to shop for years to come!!!"

Stephanie Myers
"I have nothing but great things to say about Rothschild Diamond. Mr. Effie was more than helpful with assisting me in the design of a perfect engagement ring, which turned out stunning. Tiffany and Sarah were so sweet and even helped me with a few special touches that made for the perfect proposal. My experience at Rothschild Diamond far exceeded any other experience at a big box store."

Major
"Professional, trustworthy, friendly, beyond well educated in Diamonds! Truly blessed to have met these ladies and purchase my wife's ring and wedding band w/ them. I've never had a good feeling at a jewelry store until I met w/ Rothschild!!! Beyond thankful and appreciative! It's definitely the only place I'll be shopping for all my wife's jewelry!"

Lanc Crochet
"Once I was at Rothschild Diamond I knew my search was over. Every aspect of the process of picking out an engagement ring was made easier because of Sarah and all of the wonderful staff at Rothschild Diamond. Her knowledge of their products was exceptional and she was always easy to get in touch with. I do not believe i will ever need another jeweler than Rothschild Diamonds, they are the best!"

Michael Doucet
"I had been looking for the perfect ring (and a great deal) for months before going into Rothschild. Tiffany was amazing with educating me on the industry and seemed to know exactly what I was going through in dealing with other retailers. Long story short, if you want to deal with people that treat you like family, shoot you straight, and can give you a great price and product, go see Tiffany. I couldn't be happier with the entire experience and I couldn't recommend them any higher."

Jon Howes
"I was treated with nothing but respect and warmth from everyone in the office. I was never pressured or discouraged. Everyone was very respectful and helpful in what I was looking for, especially with respects to my budget. They made an exceptionally beautiful ring that my now wife-to-be absolutely adores! If you want to be treated like family when the time comes to expand yours, I cannot recommend Rothschild Diamond enough!"

Brantlee McConaughey
"My fiance got my engagement ring from Rothschild Diamond and I am obsessed with it! It is truly my dream ring. He had told me that the process in getting my ring custom made was very smooth and hassle free. Tiffany is super friendly and passionate about her work and it shows. I also personally love that they cater to private consumers through referrals rather than operating as a public standalone jewelry store. "

Jessica Thong
Schedule an appointment with us!
When you schedule an appointment with us, you meet one of our diamond-expert owners directly. You'll be able to select from our extensive selection of highly-scrutinized stones. We pride ourselves in selecting some of the best diamonds in the world in terms of quality, cut and value.
It's an experience you can't get anywhere else. It's why our customers travel to New Orleans from across the country. We can't wait to begin making your dreams come true.
schedule an appointment with us