The Low-Down on Caring for your Jewelry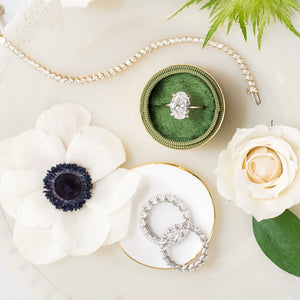 To keep your diamond ring sparkling, we recommend an at home cleaning once a week. 
Bring your diamond ring to the Rothschild Diamond Workshop in our suite every 6 months for your complimentary jewelry servicing. Our master jeweler will thoroughly clean, polish and check for any loose stones. You'll leave with your ring looking brand new and fall in love with its brilliance and sparkle all over again. 
Schedule an Appointment for your complimentary inspection! 
Pro Tip: Keep a small dish or ring holder by your kitchen sink and one by your bathroom sink, so you have a safe place to store your ring while you apply makeup or do the dishes.
See
How to Clean Your Jewelry
and
Tips to Keep Your Jewelry Safe and Sparkling
! for more details on how to best care for your jewelry!