For your wedding jewelry, don't you want the best?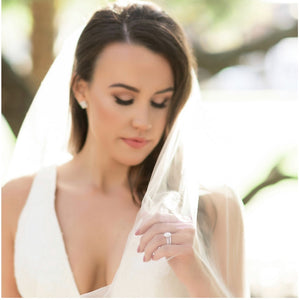 Did you know we keep a large inventory of the finest-quality diamonds on hand? We believe that having a selection of diamonds in stock is the only way a customer can truly select the stone that's perfect for them. We pride ourselves in offering only the best to our customers.
After 50+ years in the industry, we have connections that allow us to have first access to the finest diamonds after they have been cut. It allows us to stock the crème-de-la-crème. Only the finest.
We like to say it's like picking apples directly from the tree compared to just buying them from a grocery store days later, after the fine restaurants and 'those in the know' have already selected the most delicious and beautiful apples for themselves.
We're deeply entrenched in the diamond industry, and we're able to procure the absolute best and finest for our customers, straight from the source.
For your wedding jewelry, you deserve the best. Schedule an appointment, and experience the Rothschild difference.